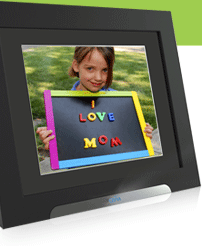 There are lots of nice digital frames out there, but The Ceiva is a cut above the rest and truly one of the best gift ideas I've come across for Mother's Day.
The unique aspect is that Ceiva allows your friends and family to connect and upload pictures online, from facebook, from their cell or their email directly to the digital frame from anywhere in the world.
Think about how much your Grandma or Mom would love if they had a frame that showed updated pictures every day of how big their newborn grandson is getting, especially if they didn't even have to hassle with the uploading/downloading of anything.
You upload your pics anyways, why not share them directly with the ones who love you the most?
$127.99